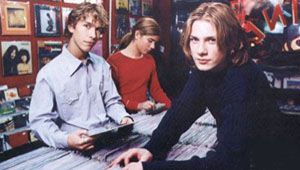 HANSON
3 talented ( not to mention HOT) guys from Tulsa, OK.
Their a good band and deserve respect.
Hanson is:
Jordan Taylor Hanson
Clarke Isaac Hanson
Zachary Walker Hanson
HANSON FANFICTION LINKS and Egroups:.
I just kinda died for you/ You just kinda stared at me. - Hanson Fanfiction.
Tiffany's Hanson and Nsync FanFiction.
Hanfic Addicts Anonymous (Egroup)
BlondHairLeatherPants (Newsletter Egroup)
Hanson Fanpage Links:.
Adopt a Hanson or join my webring!. ( NOT my page).
Buy Hanson Merchandise:.
Hanson@ JaG.Net Music
Hanson Screensaver - made by moonlight knight
Hanson is my favorite band. They play their own instruments and write their own songs. Plus their down-to-earth people. I don't care what my peeps say, HANSON ROCKS!!!!.
MORE WILL BE ON THIS PAGE AS TIME GOES ON!.