ERIK VON DETTEN, MY HUSBAND.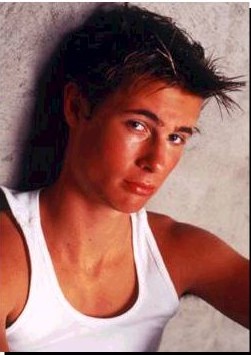 Put Up on October 25th, 1999 at : 11 :15 P.M.
SOME INFO ON MY HUNK :.
Erik von Detten
Age: 17(October 3, 2000- turns 18).
Height - 5 ' 11" ( and still growing ! ).
Shoe Size - 12.
Erik von Detten, the native Californian with a distinctive scar under his right eye may not be a household name yet, but I predict that will soon change. Erik has three sisters and a brother and Erik is the second youngest. He got his start on Days of Our Lives when he was eight and continued this role for about two years. Erik has been in several made for TV and cable movies. Christmas Everyday and Escape to Witch Mountain were probably the best of these. Even though you can't see Erik in the movie Toy
Story, he does a great job providing the voice for Sid, the evil boy who tortures and abuses the toys. More recently, Erik von Detten was one of the voices for the animated movie Hercules.
Erik von Detten also starred in the highest rated episode of ER when he played a boy being saved from a storm drain. Erik has also had several other TV appearances.
Erik von Detten loves the water. Erik likes to go surfing and sailing and Erik even owns his own boat which interestingly he bought from his fellow actor and friend Jordan Brower ( Jordan Brower )who will appear in the forthcoming "Speedway Junkie".
Erik von Detten loves music just like most of us. His favorite current band is Barenaked Ladies and a recent fave group of Erik's is Blues Traveler. Erik also digs The Beach Boys and The Beatles. Erik even plays guitar when he's in the mood.
Info from Here. Mega Thanx to this site !!!!!!!!!.
Here's some Picture Links for even more hot pics of Erik von Detten :.
Odd Man Out.
So Weird.
Pic Gallery 2.
Pic Gallery 3.
JUST FOR ALL YOU DUMB PEOPLE OUT THERE ERIK VON DETTEN IS NOT REALLY MY HUSBAND I WISH HE WAS THOUGH !!!!!!!!!!!!!.
Write Erik here :.
Erik von Detten
c/o William Morris
151 El Camino Drive
Beverly Hills, CA 90212
U.S.A.
I have no contact with Erik von Detten, ABC, Disney, Erik's Family or Friends, His house address, or his classmates.
MY WEDDING CERTIFCATE :.